We are happy to announce that Bitrogen is finally ready to serve!
Our project was already complete but we decided to improve it a little bit more. And, yes, there is that segwit thing, too… We want to provide as low fees as possible for asset transfers -especially for bitcoin, of course-, so we looked forward to a new version of Bitcoin Core which supports segwit offically so that more people might be able to transfer their bitcoins to native segwit addresses. But the segwit support, unfortunately, did not propagate as much as we expected. Many coin exchange platforms still don't support bech32 addresses (bc1…) for withdrawals. Because of that, we changed our system to support P2SH segwit addresses (3…) which is supported by the whole world. Our system will analyze transactions and apply lower withdrawal fees soon. Until then, an average bitcoin withdrawal fee will be listed and applied to the users who request sending coins out of Bitrogen.
We also added new trading pairs to the list,  increased number of performed orders per second, and changed almost everything… Now, you can create Bitrogen pages for your work-in-progress projects and get them funded with bitcoins!
Crypto Currency Exchange
Bitrogen Exchange has been founded to provide you an easy and cheap way to trade digital assets. We believe that its minimalist and simple design will not only help you traders, but also teach others how to trade coins, in an easy way. Confusing tools do not make trading more efficient. So, we kept and will keep it as simple as possible.
Every exchange has cold wallets. But we also built a double-layered system for Bitrogen for safety purposes. All actions and requests get transmitted to the main system after they pass a filtering process which takes only one second for hundreds of thousands of requests. If anything goes wrong in the website, it will not even affect the main server. You use the website which is in the first layer to be authtenticated and send requests. All deposit and withdrawal actions and order executions are performed in the second layer. If you keep your account safe, every single coin in your account will be safe. In addition, none of your coins is stored in the servers. You just pick an address, which has been pre-generated and signed cryptographically in the second layer and then moved to and verified in the first layer, in order to deposit coins. Servers in the second layer check incoming coins and matches them with your addresses, if any. We care more about security than we do about anything else!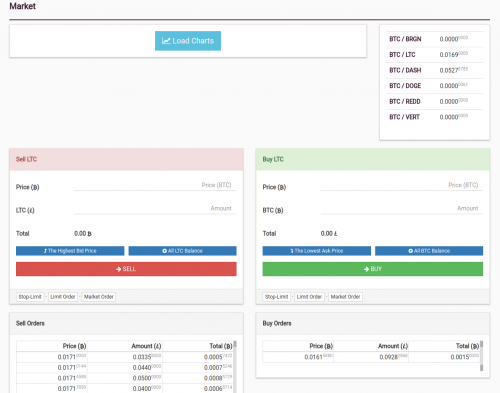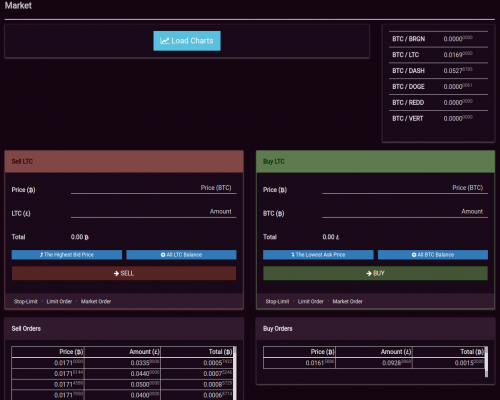 Bitrogen used to be able to execute at most 100K orders per second when it was called Bank Anatolian which was its codename when it was under development. We decided to add an English language option and then realized that we have to extend and improve the system a bit more. Now, it can handle over 1,800,000 orders per second. (Note that because of the double-layer, every new orders may be delayed for a few seconds. After beta, the performance will be much better. Bitrogen is still in Beta, but we solved this issue. We determined that our order matching algorithm can handle over 2M orders per second now.)
Bitrogen is now ready to serve in beta. Simple, fast, secure… And limitless. You can trade your coins anonymously.
Trading Pairs
BTC – BRGN
BTC – LTC
BTC – DASH
BTC – DOGE
BTC – REDD
BTC – VERT
If Bitrogen meets a reasonable trading volume, more digital assets will be listed. Please, follow us on Twitter (En: @BitrogenCom, Tr: @AnatolianOrg) and feel free to give us some advices!
Fees
Trading fee is 0.1% (fixed). Minimum tradable amounts, minimum transfer (deposit-withdrawal) amounts and withdrawal fees are listed on the landing page of Bitrogen. Also, we support segwit (For now P2SH addresses are provided. After the beta, native segwit -Bech32- addresses will also be provided). When you use Bitrogen, our system analyzes transactions at the background. It will apply lower withdrawal fees soon. Until then, an average bitcoin withdrawal fee will be listed and applied to the users who request sending coins out of Bitrogen.
Turn Your Twitter Page to a Crowdfunding Page
Bitrogen allows you to create project pages with easy-to-remember links like bitrogen.com/@yourpagename and fund your work-in-progress projects with bitcoins!
You can make money while you're developing your product. Let's say you have an idea. You split it into several parts. You produce and share the first part as a free content and set the goal value for the next stage. Then, tell people about your project and Bitrogen page to get help fund it. If it reaches the goal, you are ready to share the second part and set the goal for the third part. If not, then it may mean that people do not like the idea very much. So, you can jump into another one!
In order to avoid spams, we require you to pay 0.0001 BTC per page you create. But your first page is totally free! We only hold 1% of your earnings to keep our services alive! You get 99%* of the funds.
Want to see an example page? Go to bitrogen.com/@anatolian (Please, do not try to send bitcoins to the address in the page. It's a testnet address.)
*Bitrogen reserves the right to change the fee for "Bitrogen Page" funds in order to avoid loss due to changing withdrawal fees.
Referral Program
We start this referral program to reach more and more people in short term! You think you can help us? Nice, then we will be happy to share our commissions with you! Find your referral link in the settings page and publish it with others. When your referral friends trade, you will get paid immediately.
Current referral program share ratio is 20%.
An example scenario: if one of your referral friends takes 50 litecoins while trading, she or he pays 0.05 litecoins as a trading fee. Then, he or she gets 49.95 litecoins and you get 0.01 litecoins. Yes, it's that simple!
We reserve the right to change contents of the campaigns, including referral program rules, at any time because of changing conditions of the system.
BRGN Coin?
We just mentioned Bitrogen Pages above. It's actually a live and centralized example of what we want to achieve in future. We want to decentralize it! Yes, a decentralized crowdfunding, donation and also market platform where masternodes can be digital shopping malls… We only allow donation-like crowdfunding type in Bitrogen Pages for now due to the fact that we do not want to be the center of an anonymous market for non-digital property. After we develop and build this decentralized platform, BRGN coins will be available to be used in this economic system.
BRGN is now a token for Bitrogen Exchange and in future will be a premined crypto currency. Total supply of BRGN token is now 100 000 000. This will be 50 000 000 BRGN coins. We are sharing our revenues with those who have BRGN tokens in their accounts.
49 000 000 BRGN coins has been put on the market. We will keep 51 000 000 of all BRGN tokens. Market revenues (trading fees) will be shared in proportion to amounts of BRGN tokens in the users accounts.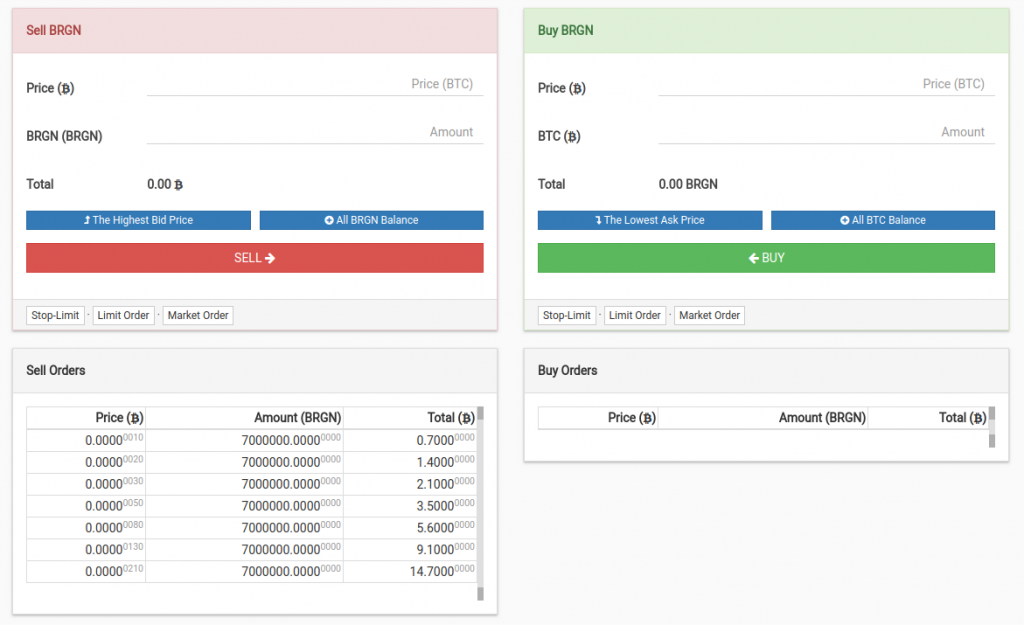 Your BRGN tokens are tradable and we won't share BRGN fees of performed BTC/BRGN orders with BRGN owners. We will keep selling them until Bitrogen platform is released. Then, we will destroy our 50M BRGN tokens and stop sharing our revenues. There will be only 50 000 000 BRGN tokens left and we'll start calling them "coins". After that, you will be able to withdraw your BRGN coins to your personal BRGN wallets.
We share only digital asset (crypto currency) revenues. If we start listing native currencies in future, they will not be included in this program. We share the revenues monthly. You need to have at least 1 BRGN in your account to get your commissions. BRGN amounts of your active orders will NOT be counted.
| Price (satoshi) | BRGN Amount | Total | Allocated for |
| --- | --- | --- | --- |
| 10 | 7 000 000 | 0.7 BTC | Server upgrades and better network equipments |
| 20 | 7 000 000 | 1.4 BTC | Extending the team and hiring designers |
| 30 | 7 000 000 | 2.1 BTC | Developing native mobil apps and more design improvements |
| 50 | 7 000 000 | 3.5 BTC | Hiring more engineers and training the team |
| 80 | 7 000 000 | 5.6 BTC | Extending our services and supported coins list |
| 130 | 7 000 000 | 9.1 BTC | Advertisement and marketing |
| 210 | 7 000 000 | 14.7 BTC | Developing Bitrogen Platform |
If you want to support this project and be a part of it while trading coins, then sign up now!