Invite your friends to join Bitrogen. When they're trading, you'll receive 20% of the fee.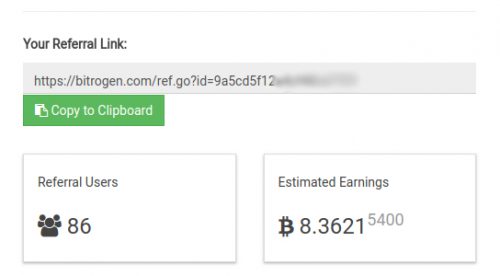 Go to settings, find your referral link in "User Informations" section. You'll be able to monitor the number of referral users and the estimated amount of earnings here.
Referral Program Conditions
Your friends must register using your referral link. We are not responsible for invalid links which are shared accidentally. (We do not provide QR codes. If you convert your referral link to a QR code, be careful.)
We may list "top earners" on our website. By joining referral program and sharing your referral link, you signify your consent to showing a part of your visible name (display name).
We only share trading fees for BTC pairs (e.g BTC/LTC, USD/BTC. But, USD/LTC wouldn't be included even if it was supported.). You will get the commissions in the same currency as it's paid to us. An example; if one of your referral friends pays 0.05 LTC fee, you will get 0.01 LTC. Other fees like withdrawal fees and "Bitrogen Page" commissions that your referral friends pay are not included. BTC/BRGN pair is included but only for BTC commissions. BRGN shares are not a part of this program.
We will block multiple account users.
We reserve the right to change conditions and share ratio of this campaign or stop it in future.
Happy trading, happy earning!